Mechanical Grille Waste Water Filtering Rake Bar Screen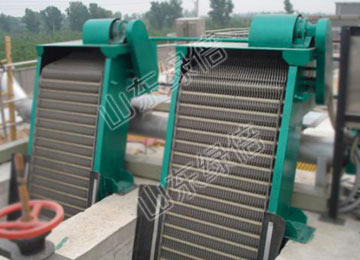 Mechanical Grille Waste Water Filtering Rake Bar Screen
Description of Mechanical Grille Waste Water Filtering Rake Bar Screen
Rotary screen machine (grille decontamination machine) is a kind of automatic clear in continuous flow of various shape of the debris,to solid-liquid separation device for the purpose which as a kind of special equipment widely used in the urban sewage treatment,tap water industry,power plant inlet,also can be used as textile,food processing,the papermaking,the leather industry production process in the essential special equipment,is the most advanced in China at present the solid-liquid separation equipment.
Structure and Working Principle of Mechanical Grille Waste Water Filtering Rake Bar Screen
Mechanical Grille Waste Water Filtering Rake Bar Screen is a kind of unique rake the tooth assembly to a set of rotary grille chain.In the drive motor reducer,gear chains are under the flow direction rotary motion.The tooth of the equipment operation at the top of the chain,as the slot wheel and bent rail orientation,make each group between the teeth to relative movement since the qing dynasty,most of the solid material down by gravity.Another part of the sweeper rely on reverse motion stuck to rake the tooth of the debris on clean.According to the direction of flow rake the tooth chain similar grille,in the teeth of the shaft assembly chain between tooth under conditions of use either.When the tooth of the suspended solid the fluid flowseparation can ensure smooth after the pebbles.The whole process is continuous,also can be intermittent.
Features of Mechanical Grille Waste Water Filtering Rake Bar Screen
Mechanical Grille Waste Water Filtering Rake Bar Screen is the biggest advantage is a high degree of automation,high separation efficiency,small power consumption,no noise,good corrosion resistant performance,in the unattended can ensure continuous stability. Set a overload safety protection devices,in equipment is at fault,it will have a sound and light alarm and automatic stop,can avoid equipment overload.This equipment can be adjusted according to the user equipment running interval, realize periodic operation; According to the grille level difference can be before and after the automatic control;And manual control functions, with convenient maintenance.The user can according to different work need any choice.
Because this equipment structure design is reasonable,in the equipment, own strong self-purification,won't produce jam phenomenon,so little daily maintenance workload.
Equipment specification according to machine width size HG300-type 1500 points. Machine more than 1500 mm wide, then make it and online. Gate gap is divided into 3 mm,1 mm,5 mm,10 mm,20 mm,30 mm,40 mm,50 mm,etc. Various kinds of specifications, by a water, hoisting height, solid-liquid separation and the total amount of the shape of the separation material, particle size to choose the gate gap.According to customer needs to choose material of ABS engineering plastic,nylon,the tooth of the stainless steel production;Main body frame has stainless steel and carbon steel corrosion two kinds.
Technical Data of Mechanical Grille Waste Water Filtering Rake Bar Screen
data\model

YMGS-300

YMGS-400

YMGS-500

YMGS-600

YMGS-700

YMGS-800

YMGS-900

YMGS-1100

YMGS-1200

Install angle( a)

60°~85°

Power

(kw)

0.35~0.75

0.55~1.1

0.75~1.5

1.1~2.2

Screen

Speed

( m/min)

About 2

Width

w0(mm)

300

400

500

600

700

800

900

1100

1200

Height H0 (mm)

H+H1+1350

Total width

W1

(mm)

650

750

850

950

1050

1150

1250

1450

1550

Ditch width U

(mm)

650

750

850

950

1050

1150

1250

1450

1550

Ditch depth h

(mm)

decided by user

Diversion trench Length

L

(mm)

1500+HxCtga

Medium maxi temperature(°C)

80°

foot margin to discharging top mouth height

H2

(mm)

400~1000



Pictures of Mechanical Grille Waste Water Filtering Rake Bar Screen