Rotary Mechanical Coarse Bar Screen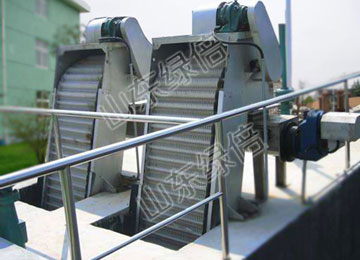 Rotary Mechanical Coarse Bar Screen
Introduction of Rotary Mechanical Coarse Bar Screen
Rotary Mechanical Coarse Bar Screen is a kind of can continuous automatic clear fluid in various shapes sundry, to solid-liquid separation for the purpose of device, it can serve as a kind of special equipment widely used in urban sewage treatment, water industry, power plant water intake, but also can be used as textile, food processing, paper making, leather industries production process indispensable special equipment, it is current our country the most advanced solid liquid screening equipment, have filled in the domestic blank.
Main Features of Rotary Mechanical Coarse Bar Screen
1, the structure of Rotary Mechanical Coarse Bar Screen is compact integration, a high degree of automation (can connect a PLC microcomputer control system to control the operation of equipment), the province energy consumption, low noise, high separation efficiency.
2, continuous decontamination non-clog, slag discharge clean.
3 and corrosion resistance (all moving parts are stainless steel and nylon).
4, safety operation and transmission systems set up mechanical overload protection and overload limiter dual protection, overload the instrument can display limiter transmission load, when underwater chain or the tooth is stuck, electric machine will automatically cut off the electricity. Instruments with remote monitoring interface, which can realize the machine fault remote monitoring.
Pictures of Rotary Mechanical Coarse Bar Screen