Mobile Wheeled Water Mist Dust Removal Fog Cannon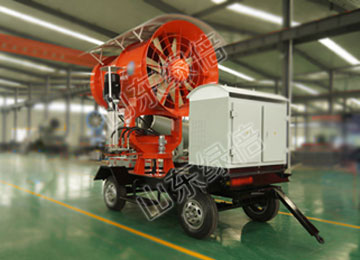 Mobile Wheeled Water Mist Dust Removal Fog Cannon
Introduction of Mobile Wheeled Water Mist Dust Removal Fog Cannon
High efficiency, high quality products as part of our design philosophy,when compared with similar products,Mobile Wheeled Water Mist Dust Removal Fog Cannon is performance on high efficiency,environmental protection, energy conservation is particularly prominent. Hanging breeze sprayer without power, ultra fine droplets, simple mechanical transmission, good maneuverability, and tractor use, simple to hang and working in excellent electrical control function, operability greatly enhance driver easy to operate independently, even water provincial drug (medication the same ratio with the normal spraying, water and medicine section up to 30% -55%), walking one meter per machine to complete the coverage area over 30 square meters. Fully applicable in the townships and rural complex terrain, and in large areas of farmland, better able to demonstrate the superior efficiency of the machine, spraying an area up to 160 acres per hour.
Feature of Mobile Wheeled Water Mist Dust Removal Fog Cannon
1. Mechanical drive, our Mobile Wheeled Water Mist Dust Removal Fog Cannon is more reliable and safer than electric motor drive.
2. Long range, two-stage fan, high wind pressure large air capacity, mist uniformity, save water and pesticide.
3. Good penetrability and high aiming accuracy.
4. Precise spray, high-usage of pesticide, save water, reduce pollute and cost.
5. Wide elevation from 10-70°, 360°horizontal rotation.
6. Program control, remote automatic operation by the driver (for several models).
Parameters of Mobile Wheeled Water Mist Dust Removal Fog Cannon
1.precise spraying
2.save water and pesticide 30%-55%
3.air-assisted tractor mounted power sprayer
Pictures of Mobile Wheeled Water Mist Dust Removal Fog Cannon