Plate And Frame Filter Press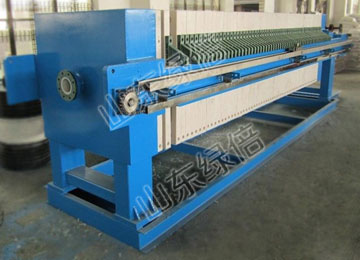 Plate And Frame Filter Press
Description of Plate And Frame Filter Press
Frame of Plate And Frame Filter Press is made of cast iron/steel, anticorrosion treatment on the surface.
External size of filter plate: 630*630mm,800*800mm,1000*1000mm,1250*1250mm,1500*1500mm
materials:reinforced polypropylene.
Filter area : 1m2-32m2,
Working pressure 0.8Mpa.
Automatic/manual
A filter comprises a set of vertical, juxtaposed recessed plates, presses against each other by hydraulic jacks at one end of the set. The pressure applied to the joint face of each filtering plate must withstand the chamber internal pressure developed by the sludge pumping system.
Filtration Cycle of Plate And Frame Filter Press
The Plate And Frame Filter Press is an intermittent dewatering process. Each press operation includes the following steps:
1- Closing of the press: as the filter is completely empty, the moving head activated by the jacks calmps the plates.
2- Filling: For sludge having good filter ability it is best to fill the filter very quickly so as to avoid the formation of a cake in the first chamber before the last ones have been filled.
3- Filtration: When the filtration pump has stopped, the filtrate circuits and central duct, which is still filled with liquid sludge, are purged by compressed air.
4- Filter opening: The moving head is drawn back to disengage the first filtration chamber. The cake falls has a result of his own weight. A mechanised system pulls out the plates one by one.
5- Washing: Washing of clothes should be carried out every 15-30 processing oprations. For mid- or large units this take place on press using water sprayers at very high pressure (80-100 bar).
Characteristics of Plate And Frame Filter Press
1).Reinforced polypropylene filter board, filter frame adoption patent technology moulding and become, high intensity, light weight, corrosion resistance, acid and alkali resistant, avirulent insipidity;
2).Adopts hydraulic pressure, maximum pressure pressure 14MPa, and electricity contact pressure gauge automatic pressure-keeping;
3).Maximum filtering pressure for 0.5 MPa, ensure the best conditions forming filter cake, pressure filtration;
4).Simple operation, convenient maintenance, and is equipped with various safety device, ensure that the operating personnel security.
Applicable Industry Overview of Plate And Frame Filter Press
The Plate And Frame Filter Press USES extensive, applicable to all kinds of suspending liquid solid-liquid separation, polypropylene material characteristic of non-toxic, suitable for pharmaceutical, food industries health requirements, the acid and alkali resistant, corrosion resistance, especially suitable for corrosion of chemical products of filtering. Use different filter medium, to cover all the industrial field filtering.
Food: sugar, salt, alkali, monosodium glutamate, soya-bean milk, yeast, glucose powder, wheat starch, wheat flour, rice flour, skimmed milk powder, fruit juice, dehydrated vegetables, coarse sugar, pineapple juice, corn starch.
Chemicals: pigments, medicine powder, grease, rubber, plastic, epoxy resin, PVC resin grain, PE powder, vinyl chloride resin, polymerization grains.
Ceramics class: superfine glass powder, fire-proof material, silica sand, spray soil grain, mud, abrasive resistance and meters brick materials, artificial black lead, kaolin, hydrated lime, mica, aluminum oxide, calcium carbonate.
Metallurgical mining: lead powder, zinc powder oxygen, the diamond powder, aluminum and iron powder.
Pollution treatment: wastewater, residues, pigs baked urine, dyeing wastewater.
Other industries: carbon black, light calcium, additives, pearl powder, etc.
Pictures of Plate And Frame Filter Press