Hook Lift Garbage Truck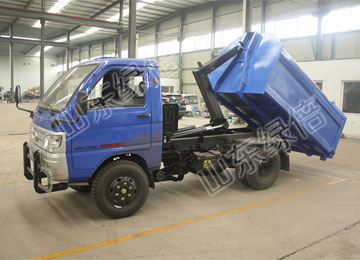 Hook Lift Garbage Truck
Introduction of Hook Lift Garbage Truck

1. Hook Lift Garbage Truck individual needs of vehicles, customized according to your needs.
2. Our products have lower prices and better quality.
3. Our delivery time is very short.
4. We offer a variety of shiping methods and payment methods.
5. We focused on product use and care of private advisory services.
Parameter of Hook Lift Garbage Truck
| | | | |
| --- | --- | --- | --- |
| name | Hook arm garbage truck | Number of axes | 2 |
| Chassis | six round SF1720G | Wheelbase | 2600 |
| engine | SF0705926 | Tires | 6 |
| power | 20.2 kW / 28 hp | Tire specifications | 650-16/700-16 |
| Displacement | 1448 | Front track | 1120 |
| Total quality | 4470 | Rear track | 1236 |
| Box quality | 430 | Maximum speed | 55 |
| Number of leaf springs | 8/7 + 7 | Number of cabinet feed ports | 2 |
| Box size | 2600 * 1500 * 1250 | Box feed port size | 500*1000 |
| Dimensions | 4885 * 1500 * 2060 | Lifting center height | 1650 |
| Height of rail under rail | 980 | Trash capacity | 4 cubic |
| Outside the width of the box guide | 730 | Cab | single row |
Pictures of Hook Lift Garbage Truck