Electric Four Wheel Sanitary Garbage Truck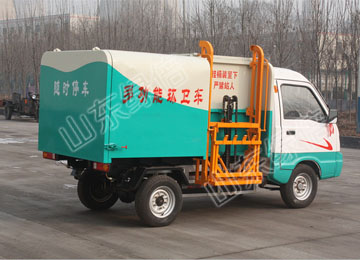 Electric Four Wheel Sanitary Garbage Truck
Introduction of Electric Four Wheel Sanitary Garbage Truck For Hot Sale
1.Electric Four Wheel Sanitary Garbage Truck For Hot Sale has Import configuration, electric tipping bucket, with ceiling, running no noise.
2. Automatic dumping dump design, saving time and effort.
3. Large load design, can handle more garbage at once.
4. Power consumption of only 6 degrees per 100 km, less energy consumption, low cost.
5. Charging once, can travel 100 km, fully meet the mileage requirements of urban cleaning vehicles.
Parameter of Electric Four Wheel Sanitary Garbage Truck For Hot Sale
Life mileage km
120
Battery capacity ah
200 * 6
Standard voltage V
72
Charging time h
10-12
Motor power w
2500
Hydraulic motor power w
1500
Trash loading time s
≤15
Trash can fall time s
≤10
Car lifting time s
≤ 15
Car down time s
≤ 10
The hydraulic system is the electronically operated operating voltage v DC12V
Tire size (front and rear wheels) 5.5-12
Door open the way the door is fully open, the top door automatically open, automatically turn bucket
Pictures of Electric Four Wheel Sanitary Garbage Truck For Hot Sale