High Performance Hydraulic Pile Driver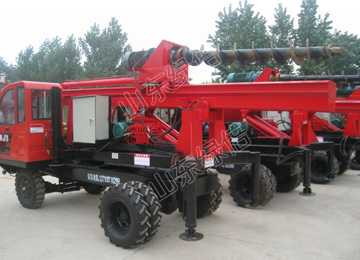 High Performance Hydraulic Pile Driver
Introduction of High Performance Hydraulic Pile Driver
High Performance Hydraulic Pile Driver is large rotation torque.the structure of the drilling rig is compact, During drilling the slide-skid are support on the ground to ensure the drilling has good stability.
With the crawler chasis and the advanced hydraulic hammer or drilling head,the pile driver have great adaptability to all kinds of terrians and complicated conditions. This rotary drilling rig has low gravity center, steady operation, more safe.
It is widely used in open cut ore mining,power station,applied for municipal construction, roads and bridges construction, high-rise buildings and other foundation construction project.
Parameter of High Performance Hydraulic Pile Driver
Project unit product data
Engine Model 4102 turbocharged engine
Outline parameters Dimensions (L * W * H) mm 5200 * 2400 * 1900
Track plate width mm 450
Operating range Parameter Drilling diameter mm 300 (drill pipe diameter can be customized)
Drilling depth m 4 (with towing rod up to 7 meters)
Drill speed R / min 120
Hydraulic system main pump model mm CBG1-F040 / 040
Main pump speed L / min 2000-2400
Main pump pressure Mpa 30
Main valve flow rate L / min 100
Main pump torque N? M 2000
Performance parameters climbing degree 30
Maximum travel speed KM / h 5
Pictures of High Performance Hydraulic Pile Driver