Solar Energy Power System For Families or Companies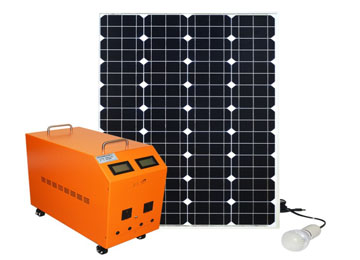 Solar Energy Power System For Families or Companies
Introduction of Solar Energy Power System For Families Or Companies
Solar Energy Power System For Families Or Companies Features
1.Pure sine wave output
2.CPU control technology; SCM control
3.Strong ability of impact resistance
4.Wide input voltage range: 90-280V; Four step AVR (three step boost, one step reduction voltage)
5.Protection against overload, short-circuit, overvoltage, under-voltage and over-temperature, etc.
6.Anti reverse connection protection and high-low voltage protection(option)
7.Special overload protection: When it is overload, it will lock the unit automatically, when it restores, it will restart the unit automatically again.
8.Strong inverter ability. It can change frequency immediately and it is able to drive the inductive load such as air conditioner, refrigerator, motor, etc.
9.Powerful charge current
10.LED or LCD display (option)
11.Meet the need of different power supply
12.Use MOSFET and IGBT
Protect function:
1. Lack-voltage alarm protection
2. Low-voltage protection
3. Over voltage protection
4. Over load protection
5. Short-circuit protection
6. over temperature protection
7. AC input low voltage protection
8. AC input over voltage protection
9. Battery reverse connection protection (Optional)
Application:
1.Power Supply Field: Solar System, wind power system, gas discharge lamp and etc.
2. Household Appliances: lamps ,refrigerator,TV,washing machine,electric fans, vacuum cleaner, air conditioner, satelliate receiver, micro-wave oven, induction cooker etc.
3. Office area: Computer, printer, copier, scanner, digital camera and etc.
4. Power tools series: Electric saw, drilling machine, punching machines, air compressor etc.
5. Irrigating system:solar pumping system
6.Traffic Devices: Military vehicle, police cars, medical ambulance, ships, traffic lights, and etc.
Pictures of Solar Energy Power System For Families Or Companies