WQ Non Clogging Impeller Submersible Sewage Pump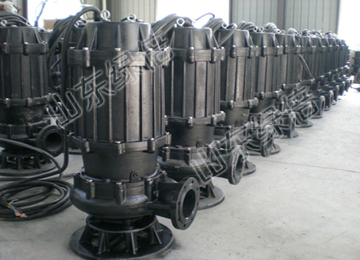 WQ Non Clogging Impeller Submersible Sewage Pump
Introduction of WQ Non Clogging Impeller Submersible Sewage Pump
WQ Non Clogging Impeller Submersible Sewage Pump is one of the new generation sewage pump ,which designed base on international advanced technology,advanced in energy saving,high efficiency,wrapped proof,non clogged,auto installation and control,have excellent performance for medium contains particles and fibres.
This series of pumps water conservancy advanced performance, high efficient structure diversity, installation diversity, simplify the pump station, save investment. Mainly apply to delivery sewage water ,waster water and rain water contains solids and fibres.
Working condition of WQ Non Clogging Impeller Submersible Sewage Pump:
Capacity:2-1500m3/h
Pressure:≤0.6mpa
Density:≤1.3×103kg/m3
Degree Protection:IP68
Direction of rotation:clockwise rotation viewed from motor
rated Speed:970-2900r/min
Head:3-45m
temperature:-15°C~+60°C
PH:5-9
Motor Insulation grade:E grade
Feature of WQ Non Clogging Impeller Submersible Sewage Pump
1.WQ Non Clogging Impeller Submersible Sewage Pump adopt hydraulic design with wide flow-path non-clogged structure ,allowed fibres(3 times length of inlet diameter),particles(30% size of inlet diameter )
2.Mechanical seal of tungsten carbide, silicon carbide and hard alloy materials avoids the water entering the motor.
3. Unique wide flow-channel design ensures the pump has powerful passing capacity and will not easily be silted or intertwined.
4. Can work normally even in low water level, since over 18.5kw power pumps cool off with outer circulating water automatically.
5. Automatic protection device and control case ensure the good performance of the pump.
6. Auxiliary impeller applies to balance outer pressure of the oil cavity and prolong the motor's service life.
Parameters of WQ Non Clogging Impeller Submersible Sewage Pump
Model

Flow

(m ³ /h)

Head

(m)

Speed

(r/min)

25WQ-8-12-0.75

8

12

2900

25WQ-6-30-1.5

6

30

2900

40WQ-15-30-3

15

15

2900

50WQ-20-7-0.75

20

7

2900

50WQ-15-15-1.5

10

15

2900

50WQ-15-25-2.2

15

25

2900

65WQ-42-9-2.2

42

9

2900

65WQ-25-15-2.2

25

15

2900

65WQ-40-30-7.5

40

30

2900

80WQ-40-7-2.2

40

7

1450

80WQ-50-10-3

50

10

2900

80WQ-60-13-4

60

13

2900

100WQ-70-7-3

70

3

1450

100WQ-100-7-4

100

7

1450

100WQ-65-15-5.5

65

15

1450

100WQ-85-20-7.5

85

20

1450

150WQ-140-7-5.5

140

7

1450

150WQ-200-10-15

200

10

1450

150WQ-180-25-22

180

25

1450

200WQ-310-13-22

310

13

1450

200WQ-200-7-7.5

200

7

1450

250WQ-600-25-75

600

25

1450
Pictures of WQ Non Clogging Impeller Submersible Sewage Pump