LB-2160 Intelligent Drive Vacuum Sweeper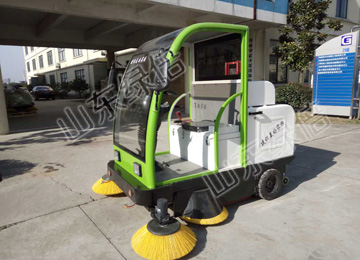 LB-2160 Intelligent Drive Vacuum Sweeper
Introduction of LB-2160 Intelligent Drive Vacuum Sweeper
LB-2160 Intelligent Drive Vacuum Sweeper for the vacuum, sweeping, waterjet combination of automatic cleaning machine, used in outdoor environment.
LB-2160 intelligent series sweeping machine performance characteristics
1. Power with 48V battery pack, energy saving, continuous use of a long time.
2. Front wheel shock absorption, protection of electronic components while improving comfort.
3. The use of double vacuum core design, dust, dust control capacity super.
4. Imported electronic control system, over-current, undervoltage protection, chassis increased, large volume of the trash.
6. solid tires, airport dedicated, durable.
Parameter of LB-2160 Intelligent Drive Vacuum Sweeper
1

sweeping width

mm

2160

2

productivty

m2/h

16000

3

hill climbing ability

%

≥35

4

main brush length

mm

800

5

battery voltage

v

48

6

max working hours per charging

h

6-8

7

container capacity

L

180-260

8

water tank capacity

L

180

9

side brush diameter

mm

500

10

drive power

(motors)

w

2500

11

operation power

w

800+500*2+80*4+50*2

12

turning raduis

mm

1500

13

dimensions

mm

2450*2160*2100

14

max operation speed

km/h

8.8

15

max driving speed

km/h

12

16

filter area

m2

14

17

net weight

kg

900
Pictures of LB-2160 Intelligent Drive Vacuum Sweeper