LB-2000 Fully Enclosed Sweeping Machine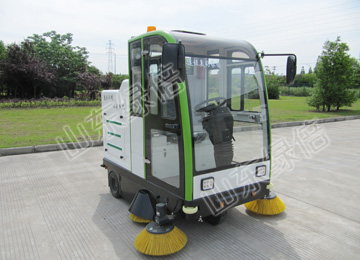 LB-2000 Fully Enclosed Sweeping Machine
Introduction of LB-2000 Fully Enclosed Sweeping Machine
LB-2000 fully enclosed sweeping machine with closed cab, suitable for use in cold, harsh environments
Performance characteristics of LB-2000 fully enclosed sweeping machine
1. With 48V battery pack as the driving force, energy saving and environmental protection, continuous use for a long time.
2. The use of fully enclosed cab, to avoid weather, noise and other harsh conditions on the cleaning work.
3. Humanized design concept, in similar products, in the front cab front wheel to increase the shock absorption function, the effective protection of electronic components while improving operational comfort.
4. The use of double vacuum core design, dust, dust control capacity, up to 12 square meters polyester fiber PTFE high efficiency filter, making 0.3 micron ash effective control rate of 99% or more, shock dust motor easy to clean filter Device.
5. Drive the system on the set, increase the volume of the trash.
6. Cab design of the bilateral door, both sides of the door can be independent switch, rear view of the door can be hit
Open, ventilation effect is excellent.
7. Control system using imported controller, power and durable, climbing strong, is more than 2 times the ordinary domestic products, up to 35% of the standard.
Parameter of LB-2000 Fully Enclosed Sweeping Machine
1

sweeping width

mm

2000

2

productivty

m2/h

16000

3

hill climbing ability

%

≥35

4

main brush length

mm

800

5

battery voltage

v

48

6

max working hours per charging

h

6-8

7

container capacity

L

230L 250L 280L

8

water tank capacity

L

120

9

side brush diameter

mm

500

10

drive power

(motors)

w

2000

11

operation power

w

800+500*2+80*4+50*2

1

turning raduis

mm

1500

13

dimensions

mm

2450*2000*2165

14

max operation speed

km/h

8

15

max driving speed

km/h

10

16

filter area

m2

12

17

net weight

kg

960
Pictures of LB-2000 Fully Enclosed Sweeping Machine