Model S 100w Wind Turbine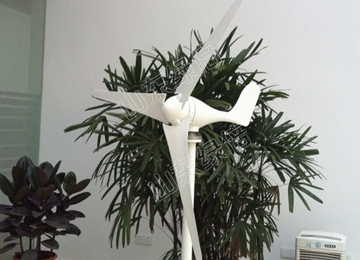 Model S 100w Wind Turbine
Features of Model S 100w Wind Turbine
1. Model S 100w Wind Turbine adopted casting aluminum alloy body, compact, safe.
2.Reinforced glass fiber blades,matched with optimized aerodynamic shape and structure,which enhance the wind energy utilization and annual output.
3.Patented permanent magnet ac generator with special stator,effectively reduce torque, well match the wind wheel and generator, and ensure the performance of whole system.
4.Tail adopts mechanical yaw technique, making it survive storm and run safely.
5.With epoxy zinc rich primer and polyurethane anti-corrosion treatment,be ultraviolet-proof, acid rain resistant, salt resistant.
Parameters of Model S 100w Wind Turbine
| | |
| --- | --- |
| Rated power | 100w |
| Maximum power | 130w |
| Rated voltage | 12v/24v |
| Start-up wind speed | 2.0m/s |
| Rated wind speed | 10m/s |
| Survival wind speed | 65m/s |
| Top net weight | 6.0kg |
| Wheel diameter | 1.2m |
| Number of blades | 3/5 |
| Blades material | Nylon fiber |
| Generator type | Three phase permanent magnet AC synchronous generator |
| Magnet material | NdFeB |
| Generator case | Casting aluminum alloy |
| Control system | Electromagnet/wind wheel yaw |
| Speed regulation | Automatically adjust wind ward direction |
| Working temperature | -40°C - 80°C |
| Design life | 20 y |
| Certificates | CE, ISO14001, ISO 9001,TUV |
Pictures of Model S 100w Wind Turbine